Unfold you wings!
Denna retreat hålls på engelska.
During this retreat, we explore and address the health challenges of a woman with methods meant to empower the self-healing mechanisms of your body.
The specific areas of predispositions for disease in women are:
hormonal imbalances including thyroid and reproductive hormones dynamics,
urogenital pathology,
infertility and stress connections,
post-childbearing complications, and
emotional challenges.
All these do not exclude the general areas of suffering health: imbalances in the digestive cardiovascular, nervous and immune systems.
Although the weekend frame is not conducive to full focus on individual needs, the character of each group will specialize in the general applications. The most important of your previous therapeutic and medical practices shall be disclosed for inclusion in the process.
We use the deeply healing effects of the Arbottna domain in order to create a self-empowering immersion for women's bodies and minds. From the earthing and soothing effects of nature to the social connection, inspiration of group practices, and learning experiences, all elements are meant to provide an all-inclusive cradle for your deep healing.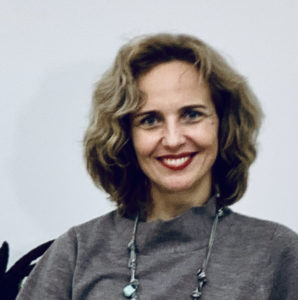 Dr. Mihaiela Pentiuc is a physician specialized in integrative medicine, holistic treatments and personalized therapeutic strategies.
"There is one clear conclusion springing from all the women's transformational programs that I organized in the last 25 years: women are able to learn from each other much faster than from books or Dr. Google. The negative, restrictive direction of development and learning is as true as the most constructive one. The direction setting is drawn by the exclusive and beloved domain of Arbottna as well as the carefully designed principles of the retreat. On their basis, a woman's creative force will blossom into healing, completion, and delight. We are looking forward to admire your wings unfold!"
Dr. Mihaiela Pentiuc
Dr Mihaiela Pentiuc's work is characterized by:
Broad teaching skills with a focus on novel educative methods and the ability to translate complex medical and metaphysical concepts into accessible language and motivational methods.
Expertise in one-on-one consultations, adaptation to the individual, cross reference, and multi-leveled approach to healing and personal transformation.
Highly creative and passionate pioneer of many successful and life-changing programmes and training.
Conscientious, organized and flexible, easily adaptable.
Non-judgemental listening and assessment, mindful and compassionate contribution to personal optimization.
Great interest in details and the structure of the human mind.
Passion for the dynamic of development and evolution of human nature, disease and health connections, life resources, spiritual journeys.
DR. MIHAIELA'S EXPERIENCES & EDUCATIONS
DIRECTOR AMRITA HEALING, PHYSICIAN, COUNSELLOR AND TRAINER,
KOH PHANGAN, THAILAND — 2007-2018
Founder of Amrita Healing, a private centre for the integration and applications of alternative, complementary and holistic therapies with specialisation in yoga therapy, therapeutic meditation, detox, Ayurvedic typing, homeopathy, personalised coaching, and overcoming health challenges during spiritual practices.
FOUNDER, HEAD TEACHER OF ADVANCED YOGA THERAPY TRAINING —
2013–2018
One of the first comprehensive 800hrs academic-style trainings for specialisation into
therapeutic applications of yoga therapy.
FOUNDATION MEMBER AGAMA YOGA, THAILAND — 2003–2018
Senior teacher and trainer of teachers and yoga students with specialisation in biology, anatomy and physiology applied to yoga, holistic therapies, tantric and spiritual practices. Hindu and Tibetan yoga styles with both Vedantic and Tantric versions. Meditation teacher in Yogic and Kashmiri Shaivism styles as well as mindfulness and therapeutic applications.
MIHAIELA PENTIUC
Complete Femininity Founder and Facilitator – personal transformation workshops and training programs for women. 2002–2017
Intensive international activity of health counselling, teaching, lecturing, personal and spiritual mentorship continues to present.
EDUCATION
Gr. T. Popa Medical University Iasi, Romania — MD, 1991-1996
Carol Davila Medical University Bucharest, Romania — Physiatrist, 1996–2002
George Vithoulkas Academy of Classical Homeopathy, Alonissos, Greece – CCH-Classical Homeopath, 2006–2010
Yoga Therapist – C-IAYT Certification International Association of Yoga Therapy, USA
Advanced Thai Medical Massage Therapy – Wat Po Traditional Medical School, Bangkok, Thailand, 2004
Ayurveda and Yoga Therapy – Himalayan Institute, Dehradun, India, 2000
Schedule
Friday
16.00–18.00

Checking in, introduction to the space and program, investigations

18.00–18.30

First group session

18.30–19.30

Dinner

19.30–20.30

Nature and mobility immersion

20.30–21.30

Self investigations in a group setting, journaling, questioning, writing, speaking

21.30

Contemplation, study, self honouring time and preparations for good sleep
Saturday
7.00–8.30

Morning rituals

8.30–9.30

Movement and breathing group exercising

10.00–10.30

Breakfast

11.00–13.30

Body and mind explorations; individual therapies

14.00–14.30

Lunch

15.00–16.00

Yoga nidra, power napping training, NDSR

16.30–18.30

Nature immersion and afternoon movement and breathing session

18.30–19.30

Dinner (including cooking tips)

19.30–21.00

Group investigations on women's health related subjects

21.00

Contemplation and self honouring time plus preparations for good sleep
Sunday
7.00–8.30

Morning rituals

8.30–9.30

Movement and breathing group exercising

10.00–10.30

Breakfast

11.00–13.30

Individual therapies, support for the personally adapted home program

14.00–14.30

Lunch

14.30

Group conclusions, nature immersion, goodbyes, infusing our living space with newly acquired inspiration and healthy habits
Price
From 7 500 SEK
Boka din plats
Terms and conditions
The retreat costs 7 500 kr. Bookings are made through bokning@arbottnaherrgard.se
Questions? Send us an email at bokning@arbottnaherrgard.se or call 08-686 00 24.
When we have received your booking, we will send you a confirmation email with payment options.
You can also add a yoga massage treatment with our own Ana Meleiro for a reasonable price. To book an appointment, contact Ana directly at 070-231 82 34, anameleiro.yoga@gmail.com
Find us
Arbottna Herrgård is located on Arbottnavägen 19, Muskö.
It is a 50-minute drive from Stockholm.
With public transportation, you take the commuter trains to Ösmo, then buss 849 to Muskö kyrka, and then walk for half an hour from the bus stop via Algatan and Arbottnavägen.
Your journey starts here!